Pinterest is growing at an exponential rate. If you don't have an account already, hopefully this article will convince you to jump onboard because it's more than just a bandwagon. The virality of this network is unlike any other in the history of social networking and you'll see why I favor Pinterest over other networks in just a few moments.
Everyone has a different approach to pinning their personal work, but if there's one thing we can all agree on, it's that your description on every pin is vital. If you don't get it right, you're missing out on a huge opportunity to attract attention to your pins or even your website. So today's focus will be on creating the right descriptions to get your pins noticed. Then I'll show you exactly how powerful these tips can be!
A good pin description should contain 4 key elements:

– It should stand out visually
– It should be 100% relevant to the pin
– It should have a call to action
– It should be searchable
At this point you may be asking yourself how black text will accentuate your pin on a site that promotes colorful, visually stimulating imagery. Simple. In the same way that colors stand out on black and white, bold and black will stand out in a sea of colors. If you consider the typical description for a pin, it's usually nothing more than a 5-10 word sentence with nothing compelling about it. So we need a way to counteract this and draw people's attention to your pins. Since there's no way to change your font type, the easiest way to add an element of bold is through the use of symbols. I prefer to grab them from this site:
Facebook Symbols: https://fsymbols.com/

It's easy to go overboard with these—don't. I would never use more than a couple, although I usually always stick to one since 500 characters worth of bold-faced smileys is a fantastic way to annoy your followers. Try to resist the urge!
Next, make sure your description is 100% relevant. There are some different schools of thought out there as to how much real estate you should be using in your descriptions. In fact, most people will recommend you completely fill all available space with a keyword stuffed caption. I prefer the opposite approach. I've found that people visit sites like Pinterest to see images, not read epic narratives. Keep it short and sweet with a couple solid keywords. Too many keywords without any structure can sound robotic. The interactions your pin receives will weigh more heavily on how your content ranks in searches than the number of keywords you include in a caption.
Third, we need a call to action. As part of your description, you should be convincing the reader to do something, preferably to click on your pin and/or link that you've placed in your description. If the original image is not yours, do not change the link. It's poor pin etiquette and your site will lose some credibility in the eyes of the viewer. I prefer to add my link at the end of my description as long as it's relevant to the pin. For example, if I own a site that sells funny t-shirts, and I find someone else's pin of a funny t-shirt, I could repin the image with a caption that says, "Love this! See more t-shirts like this at: link to my website." Boom. It's short, sweet, relevant, and has a call to action with your link.
Lastly, we need to make the pin searchable. Again, short keyword descriptions are the most effective if you actually want people to read them. But before I place my link at the end, I input a few hashtags. Much like the symbols, it's easy to go overboard with these. I limit myself to 1-3 hashtags per caption and found this to be a relatively safe number. Hashtags are clickable in Pinterest descriptions which makes them even more effective. So here's how my descriptions typically look:
Bold symbol to attract the eye > Short, relevant description with a call to action > 1-3 relevant hashtags > relevant website link
You see a lot of "relevant" in there? That's because without relevancy, none of this works or makes any sense to do. Now, I love humor. In fact, I love it so much that I've made 4 special community boards for it: Funny eCards, Funny Texts, Memes & Rage Comics, and Anything Goes Humor. Not only that, but I even went the extra mile and made a Facebook fan page and a Google+ page dedicated to Pinterest humor. Nice! So how do I get people to "Like" my Facebook fan page? In exactly the same way I taught you. Check it out: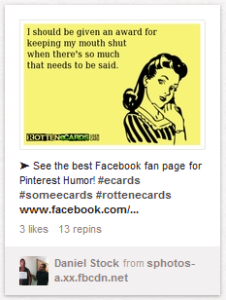 I posted 6 eCards to my board the other night and look what happened. The green circles in the graph represent those who left my original description the same, and the red circles represent those who changed my description:
Yikes! Less than 5 minutes to pin these eCards, and less than 24 hours later, here's what we've gained: 32 new links to my fan page with unchanged descriptions pinned across several boards to hundreds of new followers. My Facebook fan page is only a few weeks old and has over 160 likes, all generated from using this strategy. Not bad! Pinterest content spreads like wildfire. Don't miss out!
Written by Daniel Stock for Monopolize Social Media
Daniel is a published humorist on Amazon and a great talent.
Check out his Homepage > https://www.danielstock.com/
Check out his eBook > https://www.whatnottoputonyourresume.com/
Article source: https://monopolizesocialmedia.com/latest-news/4-keys-to-a-good-pinterest-description
Our company will blast your brand into the next level.
We represent multiple major corporations and they are available for references.
[email protected]
www.ownsocialmedia.com
www.monopolizesocialmedia.com
https://www.facebook.com/MonopolizeSocialMedia
https://plus.google.com/u/0/+JustinMatthewSocialMedia/posts
https://plus.google.com/u/0/+Monopolizesocialmedia/posts