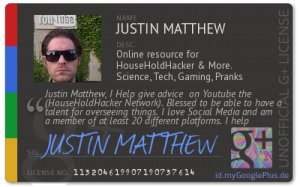 Google+ is one of the most popular social networking sites around. A ton of networking happens on the site. Having your own profile card to give others an idea what you are all about is a great idea!
GO TO
myGooglePlus.de
They have an awesome tool you can use to create a Google+ license card for your profile. Your license card will include your image, name description, and profile ID.

mygoogleplus.de's tool
is easy to use.Grab your profile ID and feed it to this tool. It automatically grabs all the relevant information from your profile and turns it all into a Google+ license card. You can download your license card and share it on your blog or G+ profile easily.
I have seen plenty of Google+ users share their license cards on their profiles. These look pretty sharp and can help you promote your Google+ profile more easily on other social networking sites or your blog. This is one neat tool to play around with.
Glad to help Justin
Our company will blast your brand into the next level.
We represent multiple major corporations and they are available for references.
[email protected]
www.ownsocialmedia.com
www.monopolizesocialmedia.com
https://www.facebook.com/MonopolizeSocialMedia
https://plus.google.com/u/0/+JustinMatthewSocialMedia/posts
https://plus.google.com/u/0/+Monopolizesocialmedia/posts