From sales mogul to social media maven
maven (also mavin) is a trusted expert in a particular field, who seeks to pass knowledge on to others. The word maven comes from Hebrew, via Yiddish, and means one who understands, based on an accumulation of knowledge.[1]
Some of you know me others will read this and go who is this guy all I know is each article I write gets an average of 6,000 views.
Let me tell you the short part of the story. I was in sales for 10 years and I was the best. Top producer, winner of the trips and made almost 2 million dollars from 19 to 29.
Then like must good things the market fell to shi- and I got out with no idea what I wanted to do.
Well destiny found me I guess. It turned out a VERY large youtube channel needed business advisement dealing with the corporations etc etc. I got a shot and landed business manager of HouseHoldhacker for 2 and a half years.
WIKIPEDIA PAGE
Rather then explain each part I will just go hrough what led me to today. After a great run there I decided to try my luck at making money in social media, on the computer etc. Took part in or helped write 48 viral videos
Well I did just that and right away I joined www.fiverr.com and in 8 months
of being a seller of 20 services made 80,0000 dollars.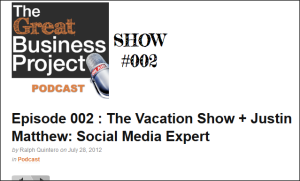 Huge interview about fiverr

https://petertrapasso.com/meet-justin-matthew-the-fiverr-king-jmhhacker-interview/

That then lead to numerous attention and awards. One of which was KRED influencer of the month a fairly big deal in the social media world


Some Fiverr Reviews

www.flickr.com/groups/fiverrreviews/pool/with/8025930398/lightbox


Which led to more interviews Front page of San Jose Mercury Times a special podcast for entrepreneurs here they are




INTERVIEWS 2 newspaper 1 live podcast
https://thegreatbusinessproject.com/episode-002-the-vacation-show-justin-matthew-social-media-expert/

https://www.prospectusnews.com/mobile/home/youtube-becomes-entertainment-destination-1.2602733

https://www.dailydot.com/business/scientific-tuesdays/
I then became a published author about google plus where I am ranked 377 in the USA and so far sold over 500 copies at 10 and 20 a piece
Ranked 377 in the USA –
Author on Amazon. https://www.amazon.com/Secrets-Google-Explode-Circles-ebook/dp/B00BMUBCUY


After doing everything that one could online I decided to start my own corporation called Monopolize Social Media Please find it here
https://www.monopolizesocialmedia.com/the-monopolize-team/the-%E2%99%95-jmhhacker-%E2%99%95-justin-matthew

https://www.monopolizesocialmedia.com/



In a matter of 3 months built a highly skilled team of 8 people and have world recognized clients and corporations.

Here is a resent client https://www.sbwire.com/press-releases/empire-avenue-hires-monopolize-social-media-msm-265257.htm
So keeping it short that was my journey to what I consider a dream come true. For those of you that read many "so called" social media experts services or advice PLEASE check him or her out if they don't have atleast some of the items I do here BE CAREFUL!
Now for those of you that want a REAL job done contact us.