APPLES APPS 6 times that of Androids !!!!!
There are more Android phones and devices out there than IPHONES IPAD ITOUCHES whatever..
Android users seem to be losing their wallets.. SHAME ON YOU!! iPhone users and iOS users fire at will!
App Store for
iPhone
make 4x as much as Google's Android Market.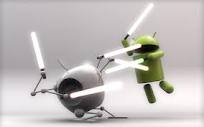 Just the App Store for iPad has 2x the amount.
So the combined app store revenue for Apple is 6x that of Androids!!
It is pretty
embarrassing
that just the iPad
alone is
generating more money for developers than the entire Android system.
This is the

proverbial

wake up call GOOGLE the developers are going where they can get paid!
Mobile app developers will look to iOS Android second. The large number of Android devices out there is not
making
MONEY FOR DEVELOPERS. What a pitiful battle if you want to call it that…
Our company will blast your brand into the next level.
We represent multiple major corporations and they are available for references.
[email protected]
www.ownsocialmedia.com
www.monopolizesocialmedia.com
https://www.facebook.com/MonopolizeSocialMedia
https://plus.google.com/u/0/+JustinMatthewSocialMedia/posts
https://plus.google.com/u/0/+Monopolizesocialmedia/posts