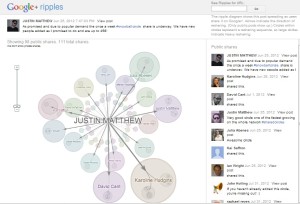 MY SECRETS about Google+ How I am ranked 534 in the USA


MY CIRCLE COUNT

Grow a Google+ Following and Get Users to Your Brand's Page
Driving motivated traffic to a Google+ Business page, is a

marketing priority

, for small business owners and big brands.
Facebook and Twitter have their own thing, a Google+ profile page can reward business owners, with brand exposure in Google search results
Most business owners are surprised to learn that hitting the +1 action, will not automatically include their page in users circles.
Google+ members must add your business to a circle themselves. If your goal is to build an engaged audience it is important that you use your existing social media marketing footholds.
Ask people like myself to share your page etc etc
Place a link to your Google+ profile and/or business/brand page on your blog and website.

Put a link to your Google+ profile and/or business page from all forums and social media profiles.

Link to your Google+ profile when you leave comments on blog post and articles… like this one.

Add a Google+ badge to your website.
MY CIRCLE COUNT

I make a living giving advice about social media and I ask the same question so which networks are you focusing on EVERY TIME GPLUS is left out

Many feel Google Plus is just another social network.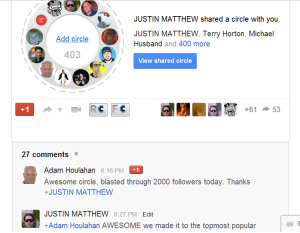 I say it's not. Google is not just trying to make another Facebook. They are doing something SPECIAL.
Many say Google Plus affects search results. I KNOW IT DOES IT HAS EXPLODED MY BUSINESS
Well I have been testing it though my fiverr gigs for clients and Google Plus is affecting search results. For the past week or two, I have been testing some pretty cool stuff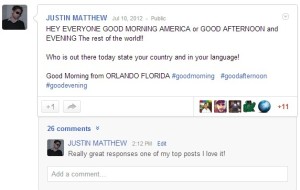 A POST THAT GENERATES ACTION EVERY MORNING
I have had over 100 clients come back to me 2 weeks later and tell me their Alexa ranking went from 1 million to 600k or 30k to 19k etc etc I myself am getting simple blog posts show up on the first page and get viewed in some cases over 100,000 times. ITS A FACT JACK BETTER BUILD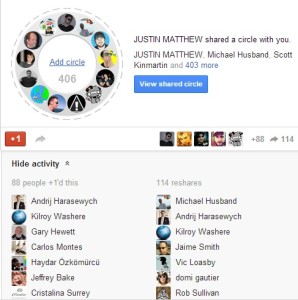 How to Get Circled by a TON of People on Google+




WHY PLUS 1

Well first it's not a like" button. Now that I get comments on many posts, I take it as recognition my posts are interesting.

Use it to gauge what your followers are finding interesting. How you choose to use that is up to you.
Uncircle Uncirclers Extension
Clears out those who don't follow back use it when you need to


The quickest way to get in a shared circle is to create it yourself. You need to know the strategy.

Create a post that says Public circle share to be included plus Share and Add the post over time it grows and grows just like mine!

It's good to call circles like these GROWTH or ENGAGERS "Circles so people know what they are

This works. I've made circles like these, and I've been nominated for them too. I've seen my circle count jump by as much as 600 in one day.
THIS IS MY SECRET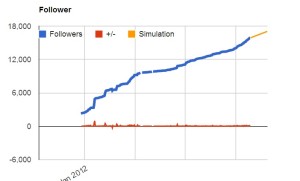 Go to circlecount.com and register your profile. Get in the habit of checking there every time you use Google+, to see if you've been shared in any circles. Also, make sure any circles you share are added to the database there.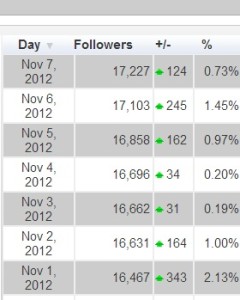 I gain on average 139 followers per day using circlecount.com you can track it.
Get yourself into publicly shared circles. This is easier than it sounds. I started the snowballcircle one of the top 10 shared circles on all of g plus
How to be really popular on G+ and get loads of followers NOW!…
Why are you here?…
Sorry to disappoint, but there's no magic bullet, or easy fast track to G+ stardom Getting G+ to be a vibrant, fascinating and useful place is actually quite easy. Getting visibility is easy. You just have to go about it the right way EVERY DAY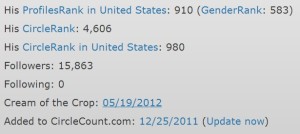 Two Important Things to Know…


You have to give a little first. Interaction is basically all that matters. Now if you're here posting your blog like entry daily, or worse, a daily link to your blog post, you're going to get nowhere. Then quit because G+ is dead.
Add some people – ideally people who actually interest you. 200-300, at most, is a good number to start with. Don't go mad! Add more if your stream is slow. Follow their posts in the stream, and join in – make comments and +1s when you can. Have conversations, and people will start adding you. Add people you find interesting after looking at their posts.

Our company will blast your brand into the next level.
We represent multiple major corporations and they are available for references.
[email protected]
www.ownsocialmedia.com
www.monopolizesocialmedia.com
https://www.facebook.com/MonopolizeSocialMedia
https://plus.google.com/u/0/+JustinMatthewSocialMedia/posts
https://plus.google.com/u/0/+Monopolizesocialmedia/posts