Google+ is one of the least utilized networks, yet it has the potential to be a game changer for the enterprising social media marketer, whether you're a beginner or already consider yourself an expert.
When you go onto your computer, where do you go to look for something? Google! When people look for SEO and search rankings, where do they want to be ranked? Google.
Justin uses Google+ all the time, and he has built a strong network over the 10 months he's been on the platform. Google+ has led to more contacts on all of Justin's other social networks, and to higher rankings on Google searches for Justin's web sites, and by following these instructions, Google+ can do the same for you
Because it's Google, and they are the 800-pound gorilla for search functions for many years to come, Justin thinks people will be setting up accounts for these reasons:
This pretty much covers everyone who's online. Google+ doesn't have the same market share as Facebook — yet — but fans of Google+ are rabid, and as more people use Gmail accounts, it is an opportunity to be social without ever switching your browser window.
Justin also sees a huge switch because millions of users use Blogger, which will now automatically post to your Google+ page. As a result, Google+ rankings are soaring for bloggers, who in turn are feeding the interest in Google+ as they post their blogs to their audience. This "one to many" method can make a huge difference in the adoption of Google+.
The first thing you need is a Gmail account, since everything starts from there. If you've already got a Gmail account, just log in, and skip down to the next part.
Once you're there, fill in the simple form, which will include attaching a current email account to this new address.
Have fun! Maybe all those names are now taken, but you've got a favorite pastime — studying up for the annual National Pirate Day! piratejoebloe@ might be available, or capnjoebloe@ – use your imagination and in almost no time, you'll have a new gmail account. It's really only a single screen to create the account.
OR look at the very top right corner and you'll see a small picture — that icon or avatar you just added, remember? If you don't have one, it will be an empty head. Either way, click on it, then click the blue button that says "View profile."
To expand and deepen your Google Plus profile, you need to give people as much information as you can about yourself, so that they can feel more connected to you (maybe) and decide to connect with you on other social networks (definitely).
From your Gmail account, click on the little arrow to the right of your Google icon on the far top right of the main screen. This will bring down a little box that shows you your Gmail account name and gives you access to both your account and the privacy settings. If you have more than one Gmail account, it appears here in the list if you are signed into it. It also has a bright blue button: View Profile, where you can view your Google+ profile.
Want to add multiple sites? Just keep clicking "Add Custom Link." Once you're done with all of them, click Save!
Link your blogs to your Google+ page, too! After all, if someone likes your post, they may want to read more of what you've said.
Similar to Facebook, Google+ has a cover photo for your page, as well as using your Gmail icon. Make sure you take advantage of this real estate. Are you in the travel business? Your logo and a beautiful picture will tell the story. Into fashion or food? Consider a picture with your favorite look or dish on it. Unlike your Gmail icon, which should never change, you can alter your cover photo with the season or your mood, and then post about it when you change it!
You can search on people you are already on Gmail with. When you sign up for Google+, you will be prompted to add folks to your circles who are already on Google+.
You can also add people individually. Just log into your Gmail account, on the top left of the screen, click on your name with a little plus (+) sign next to it, launching Google+. Type their name into the search bar at the top of the Google+ page, and it will bring them up if they are already on Google+.
There will also be a little dialog box that tells you they haven't shared anything with you yet:
Roll over the "Add to Circles" text and you can select any circle to add them to. JJ Divine just got added to the friends circle, above. Once you're done adding the few people you really care about, it's time to add a lot of new friends!
Next, on the far left side, you'll see an icon that says "Circles". Click on it.
This is where we are going to add people to our circles.
Go to the search box at the top of your Google+ page.
Type "circle share" into the search box and hit RETURN.
Then hit PAUSE on the top right of the scrolling window. This freezes the auto-scroll so that new content will not be added on top of the existing content. This way you can control the page scroll.
Scroll down. When you see a circle that has interesting content or circles, you can add individuals, but it's more likely you will want to add everyone in that circle.
Click on "View shared circle" or "Add Circle" A new window will pop up and ask you to name the circle. You can just put in "Circle Share," "My Circle Share," or anything else you want to name it.
Click on the big blue button that says "Create [name of your circle] Circle." If you haven't reached your limit of people you can circle that day, it will add the circle.
The very first time you do this, you can follow hundreds of people — usually over a thousand before Google advises you that you have reached you limit. But each subsequent day, you will only be able to add 30, or 50, or 75. Though it's partly based on the number of people who have followed you back and partly based on the number of people you add, like many of Google's secret algorithms, it's just guesswork on our part. Follow as many people as you can each day and keep coming back every day.
If you have already created a circle that you now want to add these people to (thereby creating your own new personal circle) you can just start typing the name of your existing circle into the box and it will automatically pop up. Then just choose ADD ALL.
There are two types of circles you can add: circles that have content that you are interested in, or general circles that usually contain active and interesting content or Google+ users across multiple genres. For example, let's say you are into photography. By typing the word "photography" into the search box, then hitting the PAUSE button at the top of the content that pops up, you can scroll through all posts and circles with that word. Add photography circles to your own circles, thereby following people with similar interests who can then follow you back over time (just remember to boot them if they haven't followed you back within 2 weeks).
If you choose to add interesting people cross-genre, that's fine, too; you may get a few messages from people asking, "What made you follow me, yo?" but interaction is interaction, so be sure the tell them you're trying to grow your circles. Who knows? They may even share you on Google+ and hit you up on other social networks, the best result possible.
Don't beg someone to add you to their circle. You have to start from scratch, just like Justin did. Add value to the site and you will add followers.
Here's how to add a single Google+er to your circles:
At the bottom of each post, you'll see a +1. This is Google's equivalent of the Facebook "like" button. Click the little arrow next to the +1, which shares it on your Google+ feed. When others see +1, it tells them you like that content and encourages them to +1 a post as well.
Next, share content.
You can share content right from your Gmail account.
To tag someone in your post, just add them to your circle first (rolling over their name and then clicking ADD on the popup will do it) and then type "+ Their Name" into the post.
Click the Explore button on the left side of the main screen. The most popular stuff on Google+ will come up — share it, +1 it, and often your post will be shared and +1'ed, giving you more followers and a wider reach.
Still not sure what to share? Try the trending section to the right of your main feed window.
This small section tells you which of Google's most popular content is trending higher or lower is clickable. If there's a hash tag, you will bring up everything that has been written on Google+ that has been hashtagged with the same word or phrase.
So let's say your post says, "The Social Media Rocket book has taught me everything I need to know about social media marketing on Google+!" You add a photo, of course, and then you hashtag every possible phrase! So your post ends up looking like this:
Unlike Twitter, there is no 140 character limit, so go nuts!
#science #experiment is not the same as #scienceexperiment and if you only hashtag it as this: #science experiment – science and not experiment will come up when people search.
That's vitally important in a world where we are constantly bombarded by new information. For someone to be able to find your great seafront bed and breakfast because you hashtag #CapeCod BedAndBreakfast instead of #BedAndBreakfast can be the difference between you finding a new customer or never coming across their screen in the first place. Also, you are much likely to show up higher on the search, because so many people still don't know this trick or don't bother to follow it.
It is critical to use the right hash tags EVERYWHERE. After you've written your post, hashtag every possible one – Justin has used up to thirty hashtags in a single post!
Add hashtags both to words inside the post as well as to your signature or keywords at the bottom of the post
The #SocialMediaRocket #book has taught me everything I need to know about #SocialMedia #marketing on #Google+!
#JustinMatthew, #SocialMediaBook, #HalleEavelyn, #Google+What'sHot, #CircleShare, #Reshare, #YourCompanyName
Note that #JustinMatthew will add his name into a trend list, so that it's searchable, and that +Justin Matthew (if he's in already been added to your circle) will cause you to tag him in your post.
Let's say you hashtag the word snowball – each and every time you post
By typing #snowball into the search bar on Google+, you can go back to the first post and see every time you've used the same hashtag. It in essence becomes your personal hashtag. People searching on this word can then refer back to the full list – you've basically created your own timeline using the hashtag.
This type of search is also good for mainstream hashtags, and can show you what people are talking about on trending topics when you type that topic into the search bar or click on them when you see the up or down arrows (see photo, above).
People can expand on these when you share in circles – #snowballcircle, which Justin started on his own, after just 4 months took on a life of its own, with hundreds of people trending #snowballcircle in their own shares.
Make yourself into someone who they want to follow. Your comments and content that you post take innovation and time. Perhaps you will need to research, reword, add photos to content you find.
Justin has hit the WHAT'S HOT page 77 times. Many of his posts have been reshared over 1000 times or reposted over 1000 times. He has achieved this by spending his valuable TIME working on his posts before he ever shares them. Much of what he has accomplished is completely repeatable by you, just by taking extra time.
He thinks the most important part of your sharing on Google+ is to BE REAL. Tell people when you're feeling like crap, or if you are doing something truly personal (don't overshare, of course, people probably don't want to know when you are having problems with an ingrown hair while you are waxing… or, maybe they do!) It's easy to remember to post that you got a promotion or won a marathon. But the most shared posts are usually normal things that everyone can relate to, like you had a bad day – and they can comment, "me, too" — sometimes it takes that little to make a connection.
So what kind of results can you expect? Until your circle numbers go crazy, expect less than 10+ and 5 shares per post on average.
Once you have added a lot of people from other circles, go back two weeks later and use a social media extension to clear out people who didn't follow you back.
To get both of these, we recommend going to the Chrome web store and downloading them for free. You'll have to look for apps on your browser if you're not using Chrome, but we highly recommend it as it's optimized for GMail and Google+.
At least every 6 (but we suggest every 2) weeks, you can clear it out.
Active users share their content and their circles. They are the most likely to forward you on to their own circles, thereby extending your personal brand to others who can choose to "+1", comment, follow you, or invite you to join their circle.
Sought ought "power hitters" – commenting on their posts, +ing their shares
Got into their circles because Justin's commentary was relevant, timely, and interesting.
For example, you find a big guy in a science circle; make a comment relevant to his material
Snowball Circle – The fabric of Google+ and you don't want to be pigeonholed into a particular genre
Decide which circles you want – you can have both an agnostic circle, AND circles in your genre – relevant content is the clue
Download Uncircle Inactives from the Google Chrome web store. It will automatically be added to your doc.
Click on the icon for the app and it will automatically log in and download your Google+ circles.
The left column starts with All Circles – clicking this will include all of your circles, and by clicking any one of the names of the circles below it, these will be INCLUDED in your search. Hold down the Alt or Option key to keep your selections chosen while you pick others.
The right column starts with No Circles – clicking this will exclude all of your circles, and by clicking any one of the names of the circles below it, these will be EXCLUDED from your search. Hold down the Alt or Option key to keep your selections chosen while you pick others.
Example: Let's say you want to remove inactives in all circles EXCEPT your Friends and Family – in other words, so Aunt Sandy's never been on Google+ a day in her life. You still don't want to give her the boot.
Choose All Circles on the left to INCLUDE, then your Friends and your Family circles on the right to EXCLUDE just those.
This will give you a list of all the people you have chosen who are in your circles.
Now choose your "inactivity criteria" just under the 2 columns. No posts since X date. This is up to you to choose – just click inside the calendar date for a handy pop-up calendar. Be as generous or as tight as you like with this parameter, especially if you're close to reaching your 5000 Circler limit.
Click the Check Activity box when ready (and you might check off adding the developer, Ehsan, to one of your circles, too).
After a second or two, it should finish, but to make the window active, you have to now click the "enough" button on the bottom left of the Inactivity Criteria section.
You will jump to a list of everyone in your list who is inactive ONLY. Now you can hand-select each one. Keep the ones you wish to delete selected, deselect the others, and choose "Uncircle," the bottom button on the Inactivity Criteria section. Don't forget you can use this method to remove – uncircle – an individual who might not be a good fit for your circle; you can always add him back later!
Google+ Timing also tells you how many cumulative shares and comments you have on your top posts, so you can see which of your posts are the most effective.
When you send a private post like this, it doesn't show up in your public feed, or in the feed of the person who you sent it to. The recipient just sees the notification:
| | |
| --- | --- |
| | JUSTIN MATTHEW shared a post directly with you |
Afterwards, once you share post privately, if you want it to stay private – in other words, if you don't want to allow the receiver to forward it, choose the little pull-down arrow from the top right of the post box, then choose Lock Post. This prevents people from forwarding your post or from seeing it on your recipient's Google+ feed.
You can disable comments OR lock each post on top right corner of the dialog box. This lets you send private photos from that party you went to without your boss being able to see it, or of your new baby without worrying your kid's smile will end up all over the internet. You can control exactly who sees what easily this way.
Of course Google+ also can help you to get higher rankings in their search engine. No one knows how Google weights their searches, and they are keeping that information very closely held, but by using Google+ — and especially by other people +1'ing your web site, blog, or whatever else you are promoting — Google+ users are sending a direct message to Google's search engine that your content is valuable, which helps to rank it higher when people are looking for it. Just remember that Google is constantly tweaking their algorithms, so instead of trying to game the system make sure you are providing regular, valuable content.
Creating a business profile is quite easy. First of all, we suggest you create a new business GMail account that anyone appropriate can access in your company. Maybe it's just you now, but you might grow! If it's attached to your personal account, you might compromise your privacy.
Follow the instructions to choose whether you are a:
Local Business or Place
Product or Brand
Company, Institution or Organization
Arts, Entertainment or Sports
Other
Include your page every time you send your Google+ listings. Tweet about it and mention it across all your social media, too.
Justin does absolutely no independent promotion of his JMH Hacker business page. Yet, just by following these simple steps, he has already received over 4000 +1s on JMH Hacker, so this is a valuable step that will take just an extra moment of your time as you are posting.
To use Google+ as your personal profile instead of your business profile, once you've set it up just click on the business page square icon on the far right for the drop down menu of all your Gmail accounts and pages.
If you want to see Ripples for a URL, you have to find a post that's already been shared enough to have Ripples and select View Ripples (which allows you to access the Ripples Page. Then just type the URL into the top right-hand corner of the page that comes up (see the photo above).
Here are some special little tips we call Justin's Special Sauce. Each one of them is something this social media guru did to help build his street kred on Google+, and they worked! Of course there were other ideas that didn't, so keep experimenting!
1. Good Morning, World!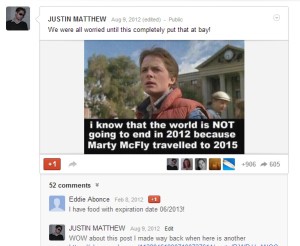 The Snowball Circle is consistently one of the most popular circles on Google+.
View the ripples on each post. A share of 100 times, with each person having an average share of 300 people.
The first thing Justin did was post the rules:
Post Goodnight all! Thing of that sort. Justin believes you will see everyone doing this in the next 6 to 18 months as of now as I write all the notes he gave me I see only him. SO let's see if he is right! Time will tell!
Was I right? Justin Matthew