OK THIS IS AN UPDATE to the original post I put the results at the bottom proving my own method take a look and just go to the bottom if you have read this if not read the whole thing. I passed even my goals!


Before you read understand this is about 15 percent of my tool kit on Pinterest but 15 percent will be more than enough to get 2 to 4 thousand followers per month
Ready to CRACK Pinterest?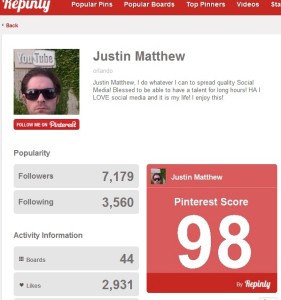 I like to actually back up what I post about…go figure..


SO a 98 score out of 100 the chart says that I am in the .00000001 percentile not bad!


I never share all my secrets the place for that is Top Social Media Consulting Services on Every Site. but I will help you out!


You willing to do grunt work? Well I am and I do every day and it works.
1st. Target your market based specific keyword.
2nd.Gather friend(s) id's from comment threads, pin-boards, people or any other search area of Pinterest
Follow other users fast, gaining you thousands of followers back in return…ie I followed around 3500 people of my 7000 followers. So many followed back and others followed me from other tips.
Just being honest Unfollow users that don't follow you clean it up I say!
Give Pinterest users time about 7-10 days to respond before unfollowing them
re-pin other images on getting you exposure and new friends like twitter someone retweets you everyday for 1 month I usually end up following them!
Substitute YOUR links when you re-pin content. Hey I am just saying you could do that
Must comment to all others users.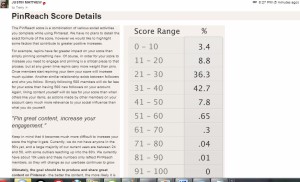 Oh amazing it says 0 have a 91-100 score well now it is .000000001
LIKE others pins and boards etc. Everyone wants followers but does not want to do the work. DO IT
Oh and I have found to follow around 250 people a day to keep it cool.
Here's what my tips will do I know from personal experience
1) Get you thousands of followers on Pinterest over 1 month do this 1 hr a day follow 8000 a month get 3-5 thousand REAL followers
2) Make you a very popular figure in your industry or niche
3) Get you A TON yes A TON qualified website traffic, recognition and exposure I have a blog www.
jmhhacker
.com I pinned some stuff added the
url
jumped from 1000 views a day to 5000 I will keep going until 1 million a day..yes I am serious. Also I have posted a shirt I sell from one of my companies it got
repinned
103 times liked 76 and 18 comments not viral but sold 700 percent increase in that shirt the next 48 hours.
4) YOU WILL Increase your product sales and profits.
5) Create a presence on Pinterest, boosts your social proof and credibility.
OH AND USE HASHTAGS PLEASE
Now if you don't want to do all that just click here 38 people a day already do..
Top Social Media Consulting Services on Every Site
.
Here have someone else do it.
Another blog article out of the kindness of my heart, seriusly this helps people and that makes me feel so much better about ME!!!
THE DAY I WROTE THIS I had 7179 followers I was following 3560 2900 likes and 44


boards…..WELL I took my own advice and have been pounding away following liking


repinning creating new boards to see what I could do in 40 hours. I will let the picture


speak for itself…





8,368 followers Following 4,151, 3831 likes
so 1200 more followers following 700 more and I liked 1000 peoples pins
which led to exactly what I said it would in the blog above. Enjoy
LINK to my pinterest see for yourself https://pinterest.com/jmhhacker/
Our company will blast your brand into the next level.
We represent multiple major corporations and they are available for references.
[email protected]
www.ownsocialmedia.com
www.monopolizesocialmedia.com
https://www.facebook.com/MonopolizeSocialMedia
https://plus.google.com/u/0/+JustinMatthewSocialMedia/posts
https://plus.google.com/u/0/+Monopolizesocialmedia/posts