SIMPLE Fun Games. Win Epic Prizes.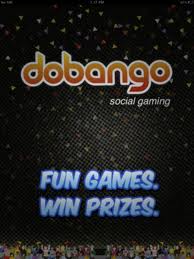 Dobango is a social gaming platform, before you go oh great another one you just might want to read on this one. I don't highlight just anyone.You can play free games and win prizes.
Rewards are sponsored by merchants. People play casual and social games against each other to become the top scorers.
Short
games are so engaging you better watch your clock. They got slot machines, spin the wheel, or scratchers.
Prizes are sponsored by local merchants and YOU win prizes and get discount coupons. It is a way for merchants to reward their most loyal customers and keep attracting them back to their businesses.
Play2Win is the exciting new suite of games developed by Dobango for the Web, Facebook, iPhone and other mobile devices. They are short, addictive games and attract a large number of players.
In fact there are tournaments throughout the day of which I almost won…almost… They have leaderboards and standings within our social networks like Facebook. I keep going back again and again,and this time you all come with me. The prizes are worth it!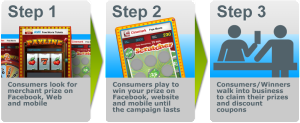 Customer Testimonials
Dobango is and will be the social gaming provider of choice for millions of players and a fantastic partner for sponsoring businesses of all sizes. They make social and mobile gaming fun and rewarding.
PlP
Two different redemption methods:
Prize certificate to redeem the free giveaway (only one winner per campaign).




Discount coupons to use toward their retail purchases (to drive more customers we recommend




attractive discounts of 30%-50%).
Winner is notified of the prize and its redemption instructions in an email. Business owner is notified of the end of campaign along with prize and coupon code and the winner information.
Winner may present their prize certificate on their mobile app or in printed form. Similarly other players may present the discount coupon for redemption.
Business owner verifies the prize or coupon code and proceeds with the redemption process.
If you are a small business serving consumers locally or online in categories like retail, dining, hospitality, and services or a larger merchant serving nationally across United States, take advantage of our promotional pricing offer to empower your business by improving customer acquisition.
| Campaigns per Week | Daily Rate* | Weekly Rate** | Promotional Discount |
| --- | --- | --- | --- |
| 1st Campaign | FREE | FREE | FREE |
| 2nd Campaign & More | $3 | $14.99 | NA |
* Valid for 1,2,3 or 4 day campaigns only
** Valid for 5,6 or 7 day campaigns only
Case I
You are a cinema theater owner with one location and every week you create 1 weekly campaign, giving away one prize per week for Free Movie.
Free Movie

1st weekly Campaign Price = $0.00

Every week You pay = $0.00
Case II
You are a Hair Salon owner and every week you want to run one day campaigns for seven days, giving away one prize per day for Free Hair Cut.
Free Hair Cut

1st Campaign Price on day one = $0.00

1st Campaign Price on day two to seven = $0.00

You Pay = $0.00
Case III
You are a restaurant owner with one location and every week you create 2 weekly campaigns, giving away two prizes per week for Free lunch.
Free Lunch

1st weekly Campaign Price = $0.00

2nd weekly Campaign Price = $14.99 (Weekly Rate)

Every week You pay = $14.99
Case IV
You are a pizza chain store like Pizza Hut and every week you want to run weekly campaigns for your 10 bay area locations giving away 10 prizes per week for Free Pizza.
Free Pizza




1st weekly Campaign Price = $0.00




2nd – 10th weekly Campaign Price = 9 * $14.99 (Weekly Rate) = $ 134.91

Dobango is a social gaming and marketing program designed to drive Web, Facebook and Mobile app traffic to your business.
---
Is there a fee to participate?
No, Dobango is FREE for merchants to join, and during the limited promotional period the first campaign is free every week. We are sure that you will see the benefits of working with us and stay on every week!
---
How do I sponsor a game?
Once you are registered, it is very easy to create a Campaign via our self-service Merchant Center, where you sponsor a Prize for a game. The Prize could be from your own product and service portfolio. As a restaurant owner, you may sponsor a free lunch or a free dinner for the winner of the game and a 40% discount for all the remaining players.
Prizes of $100 or higher draws huge traffic to these Campaigns. High numbers of users play the sponsored game to win your sponsored Prize and results in great number of customers walking into your store or business location with the discount Coupons.
---
How are Prizes and Coupons redeemed? What is my role as a business?
Winner may present their Prize certificate in their mobile app or in the printed form from the website. Other players may do the same with their discount Coupons.
At the end of each campaign, we share with you the Prize and Coupon code along with the winner's information.
When a customer wants to redeem the Prize or Coupon, he or she will show you the code on the mobile app or may present a printed Prize certificate or Coupon. You can verify with the codes sent to you in an email at the end of the campaign or log on to our Merchant center to validate the codes.
Check This YouTube video out!
---
When do customers come to me to redeem their Prize and Coupons?
Expect customers to come to you the same day the campaign ends! Our powerful platform sends the Prizes to the customers as soon as a campaign ends and the discount Coupon during the campaign when they play the game through email and is accessible from their Dobango account. Prizes and Coupons are valid till the expiration date specified by you during campaign creation.
Go NOW https://www.dobango.com/
---
When do Prize and Coupons expire?
You decide when a Prize expires. Prizes do not have cash value, and cannot be redeemed after the expiry date. Dobango recommends that you keep the Prize expiry date of 180 days from campaign start date.
---
How long is a Campaign?
A Campaign can be 1 day to 1 week long. The notion for shorter Campaigns is to make sure the players are not getting bored playing for a long time before they can win the Prize.
The new merchant center will help to create your own Campaigns, Prizes and Coupons and also view Reports to see the Campaign performance.
---
Can I repeat a Campaign?
Yes, each Campaign can be repeated 1, 2, 3, 4 or never ending.
---
Can I create two Campaigns running simultaneously for my two restaurants?
Yes, the first Campaign you create will be FREE even if you repeat the weekly campaign 4 times. When you create a second Campaign running simultaneously, you will be charged according to the current Rate Plan, around $14.99/week for weekly campaigns or $3.00/day for daily campaigns. But the more simultaneous Campaigns you run, the more number of times the users will interact with your brand getting you more brand exposure, more users will play to win your Prizes and higher number of customers will walk into your restaurants.
---
How do I sign up?
Glad you asked. Register or contact us at (800) 479-0127


Dobango's deal platform combines social media, mobile devices and games to create a unique value proposition for both merchants and consumers.
The Dobango application can be played on the iPhone, and the Web.
Dobango offers merchants a unique opportunity to sign up new customers and engage existing customers. More than 170 merchants have already signed up, such as Gordon Biersch.
Thousands of customers are playing Dobango games and enjoying free rewards such as free movie tickets.
Dobango has signed up merchant partners such as Chili's, Borders, and Subway.
Mentioned on the Daily App Show with A Video!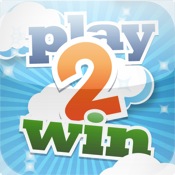 Don't just play – play2Win!!! This let you play to win real prizes! Coffee at your favorite Café, Take your girl out to Dinner at a restaurant, massage at a local spa, discounts from national retailers – you name it!
JOIN FREE NOW
Get rewarded for just participating and referring your friends. Recognized as the best app that combines fun with rewards, Dobango's play2Win partners with hundreds of local and national businesses to bring you the best. I will say it DOBANGO annihilates Groupon no doubt! https://www.dobango.com/
Great Video of how it all works!
Our company will blast your brand into the next level.
We represent multiple major corporations and they are available for references.
[email protected]
www.ownsocialmedia.com
www.monopolizesocialmedia.com
https://www.facebook.com/MonopolizeSocialMedia
https://plus.google.com/u/0/+JustinMatthewSocialMedia/posts
https://plus.google.com/u/0/+Monopolizesocialmedia/posts