{EAV:0d76c6f76fdefc4f}
Marketing Fiverr Gigs more then just 5 bucks I can verify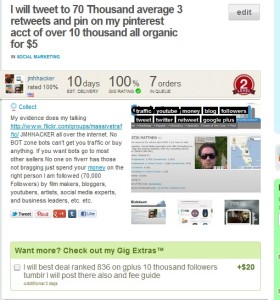 I have been very active on Fiverr for about 3 months, and I have a 100% approval rating on all my gigs, which you can see on my profile page:
https://fiverr.com/jmhhacker
Fiverr anyone can offer a service, or anything they are willing to do for $5, it's a great place to outsource also.
I found this site as an accident, I found it figured what the heck made a few gigs
thought about ideas and with in 8 days was
getting
15 orders a day. I could see that people were willing to pay money for the things I was skilled at and I wanted to make a bit more money!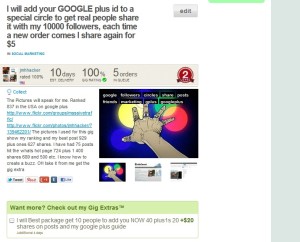 I would rather do the work through the fiverr site, even though when I get gigs through them, they take a 20% commission, or a dollar out of the five, so four is yours four and no more, BUT I was upgraded to level 1 seller then level 2 and was suddenly getting 30-40 orders a day 40 percent
which
were 25 dollars each. Plus they get a ton of traffic. I still remember it I had a great night and 2 weeks later I got the pay for that night 587 dollars in 1 day!!
As it turned out I created 19 of the 20 gigs and more or less they have ALL become huge winners. I am now getting 70-80 orders
everyday
for 6 weeks! I won't speak numbers but say minimum 1 3rd are 35 and 2 3rd are 5 you are looking at 1,000 a day minus expenses and employees.
The downside is I hardly have time for much and that is with help! I have big plans and will do what it takes. 3 of my most popular
gigs
are Instagram Google Plus and Pinterest as they get 150 orders per week, feel free to order one to test out the service. 700 reviews cant be wrong! I will put in my first 24 months to grow this into 20 times what it is today. I WILL SEE THIS TO THE END.

I have included a Google Plus Circle share gig, where I have almost 12,000 people who have me in circles, and growing daily.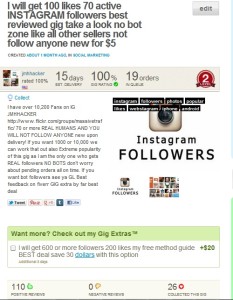 You can see all of my Fiverr gigs.
GIGS
I would CHECK OUT my 100% positive feedback.
Fiverr is a site where anyone can offer a service, or literally anything they are willing to do for $5, and it's a great place to find people to outsource small jobs to YET IT CAN ALSO LEAD TO 15 25 AND 40 DOLLAR GIGs as you get upgraded. What do you have to lose?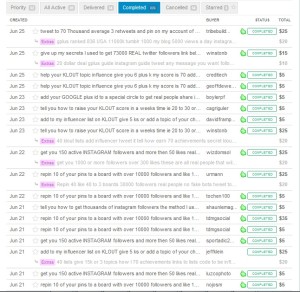 Currently accepting applications up to 7 sub subcontractors currently but looking for 1 special person that can put in a solid 5 hours a day. If Interested please reply to this blog and I will respond. Also my facebook is JMHHACKER as well as my twitter my links are all on the top of this blog.
Our company will blast your brand into the next level.
We represent multiple major corporations and they are available for references.
[email protected]
www.ownsocialmedia.com
www.monopolizesocialmedia.com
https://www.facebook.com/MonopolizeSocialMedia
https://plus.google.com/u/0/+JustinMatthewSocialMedia/posts
https://plus.google.com/u/0/+Monopolizesocialmedia/posts