Going Viral On Social Media

OK it seems I may know what I am talking about as the people I have specifically trained are the exact people I see going viral on social media just like I showed them. That being said when I have time for my own networks I still like to see if I can do it. I like a challenge.
I have my custom url's on lock down do you? Luckily I received about 34 due to how many business pages I have.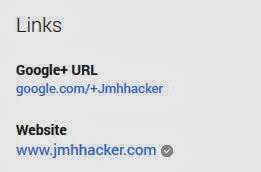 Those plus1's can add up fast!

As you can imagine not using a network for 1 month and then deciding to wake up and say today I will make a viral post is not exactly easy.

I will show you how I did just that.

I have been preaching Google+ for 3 years now anyone that knows me knows that. I wrote a book on circle shares etc 2 years ago when I was apparently the only one doing it because I was making 2,000 a week on that service alone for months.

Well guess what nothing has changed if you are willing to put in 2 hrs of time you to can make your circle share GO VIRAL.

Below you see my recent post it is still jamming as I type who knows it may get double what it has now. Oh and yes I am writing this and embedding it in this article for a reason MORE TRAFFIC.


BY THE WAY TO TAKE PART AND BE IN THE NEXT SHARE PLUS SHARE AND COMMENT I WILL ADD YOU then enjoy the ride! CIRCLE SHARE



OK below you see what is currently HOT on google+ via circlecount as you can see as I write this my post is number 1 they factor in plusses shares and comments.




OK what do we have here?
This would be the hashtag circlesharing on twitter because when I posted the circle share I also tweeted it and used the 3 relevant tags I wanted.
As you see here also number 1 for #GPLUS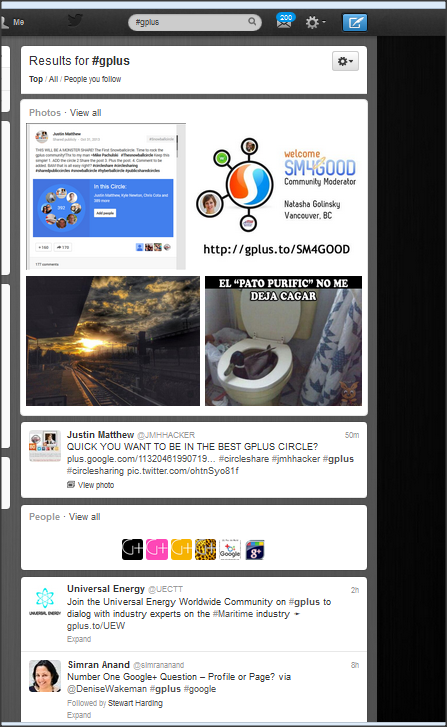 Also number 1 photo for #gplus on twitter

BY THE WAY TO TAKE PART AND BE IN THE NEXT SHARE PLUS SHARE AND COMMENT I WILL ADD YOU then enjoy the ride! CIRCLE SHARE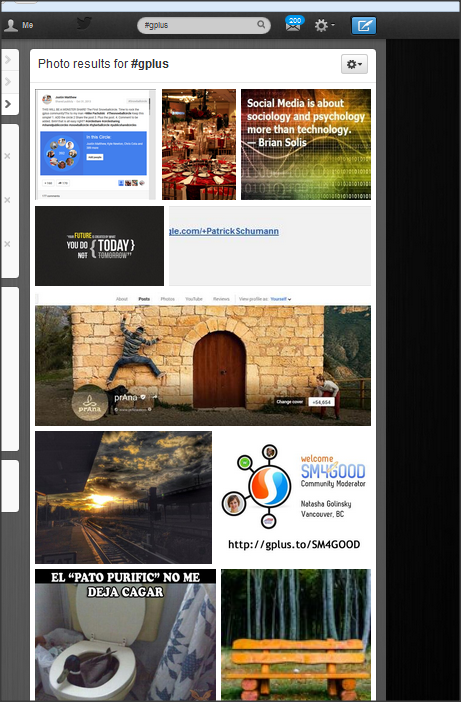 OH WAIT 1 MORE #CIRCLESHARING
OK here we have it a tweet with the link and the hashtags….but wait!!! See what I did here?
Did you know people are 3 times more likely to finish reading something if they see BASED ON TRUE EVENTS or TRUE STORY?
Well think about it when you see a scary flick I know I certainly pay more attention or it just gives me more excitement…who knows why but it is true.

So why not give it a shot on a tweet?? Well it worked and well!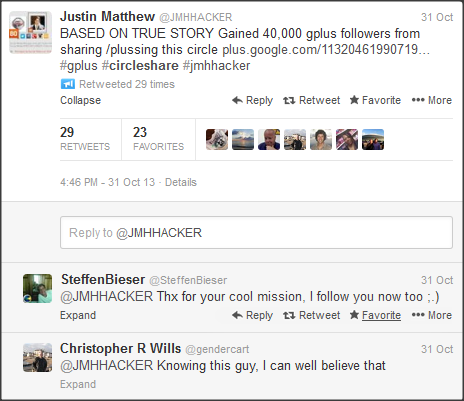 1 more here to seal the deal!
Now look at the latest headlines….
SO LOOK AT THAT GOOGLE+ born what 4 years after FB is already 2nd place…SEE YA Twitter bye Linkedin and 19 Chinese companies.
So you tell me based on the trend Google sheer power of web search and email ya think maybe they catch up?

To me it has never been a question look up my post Guide to Google+ written 2 years ago. This is a fact and it won't even be close. In 3 or 4 years google plus will have CRUSHED Facebook. Look you can't reign forever right MySpace?

I then shared my post to my tumblr accounts where they picked up a few more people. You see when you have viable other networks why not use them to give yourself the best shot when you are posting something important?
You could have called this one of course I pinned it. I have to say not bad 19 repins perhaps that got my post another 20 people? All I know is each and every effort I made increased my chances and here I have a circle share passing 200 re shares on its way to 300.

BY THE WAY TO TAKE PART AND BE IN THE NEXT SHARE PLUS SHARE AND COMMENT I WILL ADD YOU then enjoy the ride! CIRCLE SHARE
Now why do all this?? Well number 1 I actually enjoy it number 2 it is my job I represent clients in ALL industries but 1 thing they have in common is they all want more Google juice right? We all know about author rank as well.
So the circle share is a great way to increase your overall following on a GREAT social network, Now here is a bonus before I started my real company and I was making a fortune on fiverr I was actually growing my very own networks at the same time but when I stopped cold turkey my accounts still grew on their own!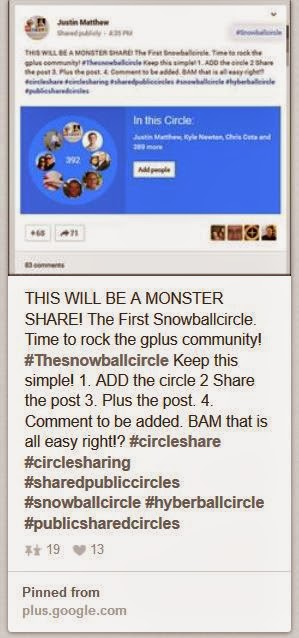 I had made so many #snowballcircleshares that it carried on without me. I hardly touched my personal account for 9 months yet it still would gain 30 to 80 people a day. SO get out there and BE ORIGINAL make yourself a circle you OWN and take care of it and I will tell you what it will pay you back in more ways then one.

JustinMatthew
Our company will blast your brand into the next level.
We represent multiple major corporations and they are available for references.
[email protected]
www.ownsocialmedia.com
www.monopolizesocialmedia.com
https://www.facebook.com/MonopolizeSocialMedia
https://plus.google.com/u/0/+JustinMatthewSocialMedia/posts
https://plus.google.com/u/0/+Monopolizesocialmedia/posts