Google+ to increase your SEO
You need Google+ to increase your SEO, raise your organic rankings, and build your business online. I just hit number 25 on the best sellers list on Amazon photo below.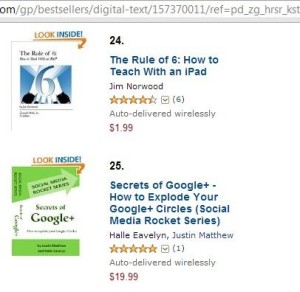 "When you go onto your computer, where do you go to look for something? Google! When people look for SEO and search rankings, where do they want to be ranked? Google."
"millions of users use Blogger, which will now automatically post to your Google+ page. As a result, Google+ rankings are soaring for bloggers, who in turn are feeding the interest in Google+ as they post their blogs to their audience."
"Google+ is the cornerstone of my social media platform. Everything else comes from that." — Justin Matthew
Check it out here now 50 percent off 50 Percent off Link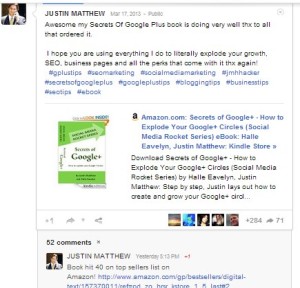 My post about how to explode on gplus ironically exploded itself! it hit the what's hot page. If you know anything about marketing you know how hard it is to have ANY product get 10 plusses let alone hit the popular page!
HERE IS THE LINK TO THE POST SEE FOR YOURSELF POST HERE

I am one of the world's top social media managers, coming up from no experience at all to build an enormous social media network that utilizes Google+, Twitter, Pinterest, Instagram, Fiverr, Klout, Empire Avenue, and Facebook to leverage his growing business empire.
Did you know I recieved 8000 Fiverr clients in 7 months using Google+ as a major advertising tool, creating nearly $75K in profits? I now hold the largest fiverr business page FIVERR GPLUS PAGE
Here is a photo of 42,000 in net earnings keep in mind fiverr takes 20 percent and that is in my pocket. I think I have given enough evidence. Get the book to learn these methods on your own.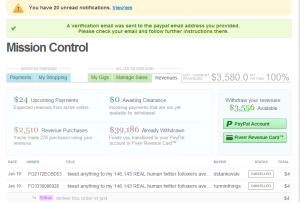 The Google Plus Top Engagement List as of 14 Mar 2013
Verify Yourself VERIFY HERE
This list ranks those people on Google Plus who have the highest engagement on their posts. Engagement here is defined as the number of comments, shares, and plus ones on their posts combined with the frequency of their postings.
This engagement score ranges from 0 to 1000 and ranks all users who had at least 1 reshare or 2 comments on average.

Edge is the ranking of the engagement score per follower.

Search for your name in the list:
JUSTIN MATTHEW
23,001 followers
0 following
8 comments per posting
12 reshares per posting
28 +1's per posting

I continue to gain on the list all using the tips and methods in the book.

Engagement score: 815

Edge score: 84

Ranking: 2,942

Rank history:
03/14/2013: 2,942
03/07/2013: 4,266
02/28/2013: 4,938
02/21/2013: 3,299
02/14/2013: 3,634
02/07/2013: 3,020
01/31/2013: 3,331
01/25/2013: 4,057
01/17/2013: 3,944
Step by step, I lay out how to create and grow your Google+ circles and keep them expanding as you ride your own growing tidal wave of social media exposure. Don't miss the chance to learn the techniques I let it all out here.
Our company will blast your brand into the next level.
We represent multiple major corporations and they are available for references.
[email protected]
www.ownsocialmedia.com
www.monopolizesocialmedia.com
https://www.facebook.com/MonopolizeSocialMedia
https://plus.google.com/u/0/+JustinMatthewSocialMedia/posts
https://plus.google.com/u/0/+Monopolizesocialmedia/posts