How I went from 10 to 50,000 Views daily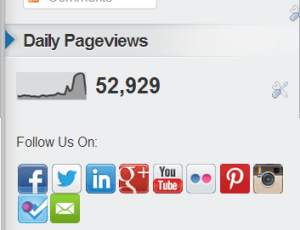 How I went from 10 to 50,000 Views daily
OK so How does one seemingly come out of nowhere connect a blogger only because of Klout write an occasional article literally forget about the blog write another article to getting 50,000 views in 1 day and making enough from AdSense that are most 9 to 5 jobs?
Well I tell a lot of my tips here that may be part of it BUT NOT ALL my tips I am not stupid I give my real tactics to the people that set up phone calls with me daily.
Oh by the way I link my blog to my corporate website.. below
I can tell you this by far and away PINTEREST and GOOGLE+ are the FIRE in my blog. I have 2 this one here and another hardly used but it still gets 5,000 views a day! I hardly advertise AdSense but where I make my money is from individuals that want to rent a spot on my blog or a client wanting me to write about there product or content.
The fact is my blog gets so many views that over time every article hits 3000 minimum no matter what it is about. HOW HOW HOW you ask??
LOOK HOW MANY SHARES AND PLUSSES
Well 2 main staples that I use. After I write my article on whatever the heck I want to write about I publish it to my 23,000 Google plus followers and that is good for 500 right off the bat and 500 later.
I also am sure to use 3 to 5 pics to post to my 14,300 followers on Pinterest and BAM you never know could go for 5000 50 or 30000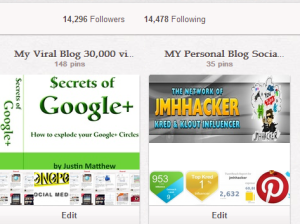 LOOK HOW MANY FOLLOWERS!
Here is the bottom line I have hit every goal made money on every social media network to the point that I just do this for fun know and maybe that is why I write so freely even grammar errors. But that is OK I give real tips and back it up with proof more then most hi know….
How I went from 10 to 50,000 Views daily
Look you want to set up an hour 1 on 1 skype or call email me [email protected] or hire me to promote your company website video etc on this blog no problem.
Just remember I come though. Justin Matthew JMHHACKER
Our company will blast your brand into the next level.
We represent multiple major corporations and they are available for references.
[email protected]
www.ownsocialmedia.com
www.monopolizesocialmedia.com
https://www.facebook.com/MonopolizeSocialMedia
https://plus.google.com/u/0/+JustinMatthewSocialMedia/posts
https://plus.google.com/u/0/+Monopolizesocialmedia/posts