Use Instagram for Content Marketing
Look I use it for mine and sales skyrocketed 3000 percent and I receive 1400 unique clicks per day to my link. Now just read…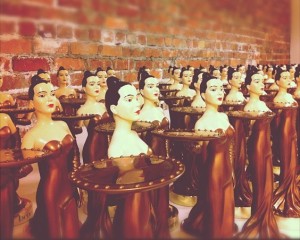 If your company has plenty of visual content to share and you know your audience is on Instagram, there's no reason to put off building your presence on Instagram.
Assume IG will mimic the growth of twitter and FB aging audiences on Instagram — most important among them being that users interact with image-based content more than any other form of content on social networks. That may make Instagram the virtual "ringer" on the social media marketing scene.
Companies are already seeing the benefits of Instagram… Well I am..
Vanity Fair: 100K followers I have 73k yay!
Vanity Fair posts images from its monthly issues in between its monthly publication cycle,and finds unique ways to engage its audience on Instagram. A weekly event, #throwbackthursday, where Vanity Fair posts magazine covers from its back issues. Pretty clever.
Content marketing tip: Post the accompanying image from a new blog post or article with a link to the piece on Instagram
You can even use Instagram's events (#flashbackfriday or #throwbackthursday) as a channel for marketing archived content through to a fresh audience.
TIP Use Instagram to share behind-the-scenes content helps you solidify a personal relationship and build loyalty with customers Instagram is a perfect place to get even more personal with your biggest fans. I take shots of myself personally once in awhile to keep a close relationship with my clients
Top Shop: 256K followers
UK-based fashion retailer Top Shop uses Instagram to market its new products, They promote secret offers, promotions, and discount codes.
TIP Create an image that features a promotional code Using Instagram as a platform for special promotional offers will without a doubt increase the growth and engagement of your brand's network.
This helped me get to 72k
Use Instagram as a channel to crowd-source content by turning your audience members into product evangelists. I did this with my fiverr services now sold over 5000 in 5 months. Initiate engagement between your brand and your target audience, it exposes your brand to their networks, as well.


Your next steps
Look whether Pinterest is right for your organization, or Instagram is a seemingly more direct channel to your audience, it's time to get visual media to get TRAFFIC. The numbers show Instagram growing by leaps and
bounds
Our company will blast your brand into the next level.
We represent multiple major corporations and they are available for references.
[email protected]
www.ownsocialmedia.com
www.monopolizesocialmedia.com
https://www.facebook.com/MonopolizeSocialMedia
https://plus.google.com/u/0/+JustinMatthewSocialMedia/posts
https://plus.google.com/u/0/+Monopolizesocialmedia/posts