Empire Avenue IS THE NEXT BIG THING
Empire Avenue will be bigger then Instagram or Tumblr ever were.

Twitter, Facebook, Google Plus, Pinterest, Instagram, and Tumblr all powerhouses.
Pinterest was around 4 years or more before it took off…
Instagram and Tumblr had nice buyouts where does Empire go.

One day, Empire Avenue will be right there with those names if not more so.. I know for a fact from experience.
Eaves are valuable.
Those are what we call the virtual currency on the network I will do an article that starts from a to z soon.

How do you use Empire Avenue
In the short amount of time I've spent at Empire Avenue 12 months I have seen spamming, trading, mission stealing, complaining, investing and a little bit of socializing.
All the while Empire is better then ever for me.

What good is a social media exchange where people don't connect? 560 of my FB connections are from empire ave and it has opened MANY doors for me and them.
What is Empire Avenue?
People need to use Empire Avenue to promote their content or clients networks BUT in order to do that you must play the game correctly for awhile to get the hang of it. If you put in 2 weeks you will never leave again. DONE AND DONE
So Empire Avenue IS the place you want to be.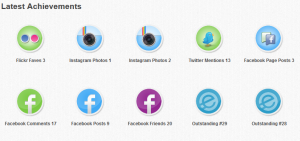 Let's face it most people join give it a go and leave before they even know it was the biggest mistake in their social media career or lack there of now that they left. New members struggle to make their presence known and attract investors.
What is Empire Avenue?

Facebook ads, pay per click, Twitter be warned Empire Avenue has the most potential of ALL social networking sites. I have figured this out and on a LARGE SCALE.

Why should I join Empire Avenue?

People sign up for many reasons but do they know WHY??.

To see what value you as a network are assigned? Meet new connections? Or something more something innovative that has brought me great success.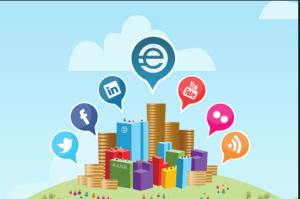 How do I earn money and build my net worth on Empire Avenue?
Complete profile and attach photo
Connect all social media networks empire allows if you don't have one make one- Twitter,
Facebook, LinkedIn, Youtube, Flickr, Foursquare, Instagram, Gplus, WP, FB Fan page
blog RSS feed to get it peer endorsed
Link to Pinterest Board about Empire 19,000 Strong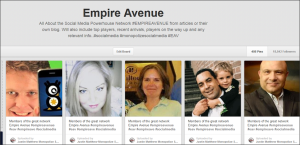 Use your networks! –
Upload to IG tweet, make FB posts simple helps your price and investors will want to own you.

Since joining 12 months ago I've learned that it is the most precious tool in the world of social media promotions.
It isn't just the community, though. For me and yes I am a social media manager unlike the 90 percent that claim it Empire Ave is a Godsend. There are plenty of places to meet influencers and people who work in social media.
Using Missions, you can drive real traffic for whatever you fancy WITH NO buying engagement for clients.

Missions are actions that are paid for through Eaves, the currency on Empire Avenue.
The game is too hard for bots, It isn't easy.. But I know a few things that make it 50 times easier and once you see the result of what it can do….well once again I am not ready to divulge that yet.

Get on immediately. I went from virtual currency EAVES to real 100 dollar bills. In fact I made real money within 2 weeks of using the site once again more detail on that later.

To me 100 million Eaves is worth 150,000 real dollars no need to get into that now. If you want to find out how join Empire I will know if you did as my link is below then we can talk about the things I have mentioned.
Our company will blast your brand into the next level.
We represent multiple major corporations and they are available for references.
[email protected]
www.ownsocialmedia.com
www.monopolizesocialmedia.com
https://www.facebook.com/MonopolizeSocialMedia
https://plus.google.com/u/0/+JustinMatthewSocialMedia/posts
https://plus.google.com/u/0/+Monopolizesocialmedia/posts