Just a few Google Plus tips and tricks that have helped me. Some old but many users do not know! How I got ranked 704 in the USA well at least part of the way!
Google Chrome
Better with Google Chrome.
HOTKEYS
j: In the stream, you can click 'j' to navigate down to the next item
k: Navigate up.
@ or +: mention someone in a post
q: While on the Home tab, press twice the q letter on the keyboard to search and add people to your chat list.
Space Bar: Scroll down stream.
Shift + Space Bar: Scroll up stream.
Tab: Scrolls through comments/users on a post
Enter: Hitting Enter when focused on a Post opens up the comment box.
Tab + Enter: End comment.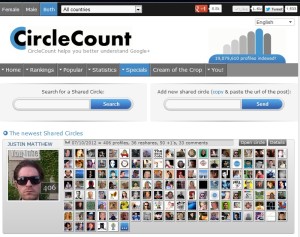 THIS IS AN EXAMPLE OF A CIRCLE SHARE ONCE I HAVE ADDED IT TO A DATABASE ON CIRCLECOUNT.COM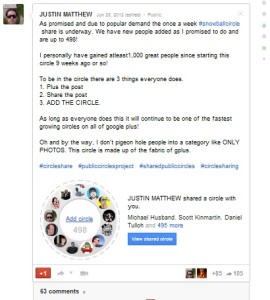 This circle share at this point had 85 plusses 105 shares and 63 comments I believe that day I gained 289 new followers.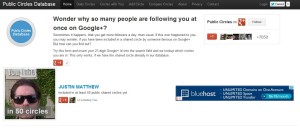 EVER GET A TON of new followers and have no clue why well go to Public Circles Database and add or ID in to see if someone added and shared a circle with you in it.


Finding people on G+ with a keyword:
On the Circles page where it says find people type in a keyword and press enter. It takes you to a search page of google profiles of people that have mentioned that keyword. From there you can add them.
Are you having a conversation with someone who is in a TON of circles?
If the comment's in response to their own post, they'll see it via their Notifications, so you can just respond.
But if the popular person added a comment to someone else's posts, it's likely they're not paying attention to every post they commented on. Once you have thousands of followers (CURRENTLY I HAVE 12,500), it is paramount to turn off some of the notifications before you get caved in.
You can still continue the conversation, just +-mention them each time you respond to them. They'll get a notification, and if they want to respond, they will.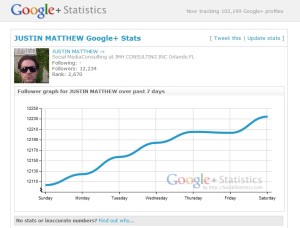 Go to google statistics to track everything!






HANGOUTS
Language issues
To find Hangouts in your Circles. right now, the best way to do this is to hit the "Start a hangout" link and in the green room, if there are any live hangouts that have been announced to you, it will be here, gives us a way to get over to them.
Mute your video and audio when you first start. Keep speakers on. Then just throw the hangout in the background. When someone drops in, they'll say hello. Then go unmute your audio and video.
HOW TO MANAGE GOOGLE PLUS E-MAIL NOTIFICATIONS
The more you comment and connect on Google Plus, the more emails you will get. To adjust email notifications in Google Plus you need to go to your Google Account Settings page. Profile Pic Account settings. Click on the Google+ link in the lefthand nav of the Account Overview. You can also click on the gear icon in the top nav which I don't think was there before.
INCOMING
In your stream, "Incoming" means "other people who are sharing with me" — people who aren't yet in your circles. You can browse through it to see people who have added you.

OK 70k followers on Twitter FB over 1100 subscribers! yet G plus has probably 5 times my twitter interaction and 4 times my Facebook OH and ranks well!
SO those are just some tips for today many many more to come. Come circle me
MY GOOGLE PLUS
say hello!
Our company will blast your brand into the next level.
We represent multiple major corporations and they are available for references.
[email protected]
www.ownsocialmedia.com
www.monopolizesocialmedia.com
https://www.facebook.com/MonopolizeSocialMedia
https://plus.google.com/u/0/+JustinMatthewSocialMedia/posts
https://plus.google.com/u/0/+Monopolizesocialmedia/posts