HOW I DEFIED EMPIRE AVENUE AND WON
Hi all well it seems I have some sort of interest in my blog even though I originally set this up simply to link to Klout it is now getting 7500-12000 views a day GO FIGURE!!
Today or Tonight time all bleeds together for me now I will tell you how I joined the social media site empire avenue (which is great by the way) and on my own terms reached the elite status of the site.
Now I read 30 articles about Empire when I joined and I would day ok sure that makes sense but I already assumed that before I read it ya know what I mean?
SO I decided to do it my own way as I have with all my networks and they all do incredibly well.
OH I read on a blog tip site I am supposed to throw pictures at you to back it all up or keep you interested no problem. I will show you how I hit 200 a share in 30 days..
JOINED JUNE 12th HIT 200 a share 30 days later
Now for those of you that do not know what Empire Ave is you do not know how huge of an achievement that is I advise you go to Empire Ave if you enjoy Social Media at all here click to go
Check Out Empire Ave
Now Empire basically is an online stock market for you personally people buy and sell shares you get a dividend and the more active and popular you are online the better your stock price does that is it more or less. The QUESTION is in 4 months how did I literally take it ALL OVER?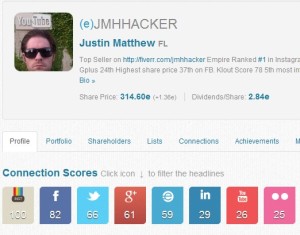 THESE ARE MY NETWORK SCORES
SO When I joined I figured GOLLY GEE let me look up the network leaders and see what they do. I did that and noticed something MIND BLOWING but not really those with high dividends did EXTREMELY well because if someone buys shares in you they will get a return from your dividend which you can then use in a mission to further your own agenda.
Oh pic time so I decided I would accomplish this
6th highest paying dividend GREAT COMPANY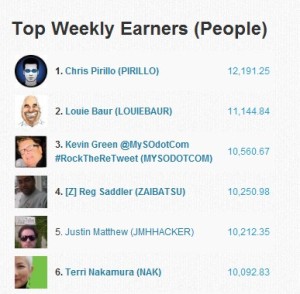 Also a top weekly earners!
THE queston is how? How did I do this so fast without a hitch no problem at all?? By not following any of the advice I read about I am being dead serious by the way…. I did it my way until I found the perfect system on day 6…. I will show you ALL you need to know in a photo THIS IS THE KEY.
Now if you want to know how to fast track your success on instagram ask me in the comment subscribe to this blog and then you may motivate me to write an entire article on HOW!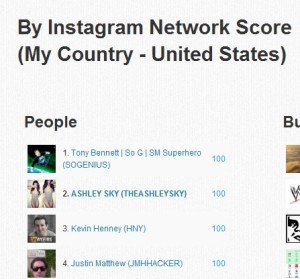 Our company will blast your brand into the next level.
We represent multiple major corporations and they are available for references.
[email protected]
www.ownsocialmedia.com
www.monopolizesocialmedia.com
https://www.facebook.com/MonopolizeSocialMedia
https://plus.google.com/u/0/+JustinMatthewSocialMedia/posts
https://plus.google.com/u/0/+Monopolizesocialmedia/posts