How To Find Your Most Popular Posts On Gplus
I have hit the What's Hot page on Google Plus over 100 times but have lost track of what they were.
Ever wonder how to view your most popular posts on

Google

plus? I know I have. Well I have found a very simple and quick way to do just that and I will share it with you today.
Now I figured I had made thousands of posts as it turned out I was right around 3301!! As you can see

below.
So rather then scrolling through thousands of posts just use simple website I will give you now you will be able to see all of your top posts.
Not only by likes but shares and comments.
https://www.googleplussuomi.com/stats.php
Created by Jari Houmo and his gplus link is HERE

His site once you plug in your gplus profile then comes back with your most popular posts.
I took photos to show just how accurate it is.



So once posts show up it gives you the option to view it.
That is exactly what I did you can see exactly what I found.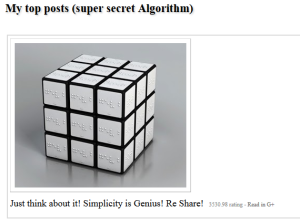 THIS IS THE FIRST POST TO SHOW UP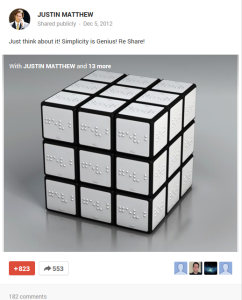 A post with 823 likes 553 shares and 182 comments.
Now I have posts with more likes and more comments and more shares but all around this was the most viewed.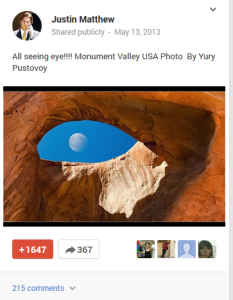 So my second post as you can see The All seeing eye 1647 likes 367 shares 215 comments.
Obviously double the likes of the first post BUT not nearly as many shares hence making it not as popular overall as the first post.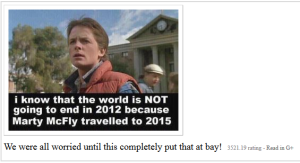 My 3rd post was Mr. Marty Mcfly, so I pulled it up and sure enough spot on!


Had 890 plus 1's 572 shares, 41 comments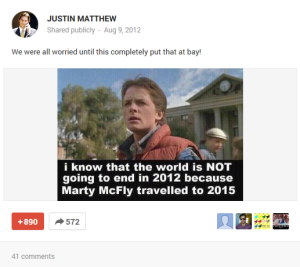 So I had many many more, some well over 2000 likes but only 60 shares or 200 likes and 400 shares etc etc. The site gives you the option to view by each category if you want.
Another top 10 post was my post on my Secrets on Google Plus ebook on Amazon so I pulled it up and BAM sure enough it was popular 283 67 and 55 comments and the post directly led to 12 sales not bad!
By the way I have 33,000 followers and my business page over 7,000 plus 1's I share how here 36 pages long AMAZON GOOGLE BOOK
Our company will blast your brand into the next level.
We represent multiple major corporations and they are available for references.
[email protected]
www.ownsocialmedia.com
www.monopolizesocialmedia.com
https://www.facebook.com/MonopolizeSocialMedia
https://plus.google.com/u/0/+JustinMatthewSocialMedia/posts
https://plus.google.com/u/0/+Monopolizesocialmedia/posts