Lighting Strikes Twice $$$
Here is a photo of 50k net of mine

Need more proof Fiverr King Interview
Hi many of you know and many do not that I was a seller on fiverr for 7 months and I sold over 60,000 in services which led to awards, interviews and eventually the founding of my own corporation.
HERE A VIDEO TO!
OH KEEP IN MIND ALL MY SERVICES ARE NOW HERE SO GO TAKE A LOOK
https://fiverr.com/atlcomputerdude
As you may know there are over 1.2 million gigs for sale on fiverr. I don't care who you are huge networks or small you will be lucky to make more then 500 a year MAX. It is that simple.

Well then how did I kick everyone's A–? Innovation and thinking outside the box. I promoted my self on google plus I made a special page called top rated fiverr gigs https://plus.google.com/107628330329682454106/about that caught on fire. I promoted on this blog that gets viewed.

I tweeted to my 140,000 followers and pinned to my 16,000. Now you are probably saying well you had those networks…YA I DID BECAUSE I BUILT THEM inch by inch to this day.

One more video for you
So to test a theory I put my friends fiverr account on this blog after I retired from fiverr and BAM from 1 sale a month to 100. Ya really! So it proved you don't need fiverr at all it showed that if you promoted your own services the right way you could become a super seller and beat the odds.
By the way his acct went from 5 bucks a month to 2,000 ya really… need proof??Well here is 3,400 total it has at 150 5 weeks ago. So 3400-150 is 3250 divides by 5 is 650 per week not bad right?
ALL MY SERVICES ARE NOW HERE SO GO TAKE A LOOK
https://fiverr.com/atlcomputerdude
Keep in mind that this will double in 4 weeks to 1300 a week all the way up to 3,000 a week that is max you can make I know from personal experience.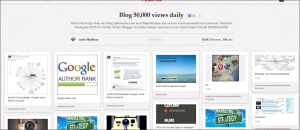 Or was it that I also pinned every photo from every blog article tripling the traffic to my blog that did it?
So was it that I had the gplus fiverr page, a good blog, a solid pinterest and a great twitter? Or was it I thought outside the box to promote these gigs and make them relevant in ways that did not exist at the time?
GO TAKE A LOOK
https://fiverr.com/atlcomputerdude
As you can see I was not shy about promotion was I? Know what is funny I would get haters and trolls but let's face it who is going to do it for you!!! I knew the more haters I got the more money I made I even calculated it if I got 20 haters in one week that was a 3 grand week.
Add caption
OR…….. was it posting it on my viral gplus page writing the article pinning it to my viral board and then tweeting the pin and sharing it to FB but not just any FB a special FB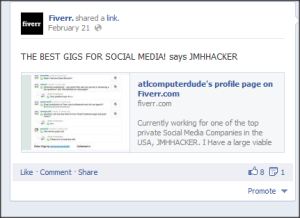 As you can see I promoted the account today we

received

21 orders a 430 dollar day not bad huh
JOIN US ON THE FB I will post your gig https://www.facebook.com/FiverrHQ

As you can see I made a Fiverr Fanpage on FB I promote others too but I take care of number 1 first 🙂
SO I had a plan it worked did I tell you all of it NO maybe 20 percent if you want to learn to rule social media like I do. I mentioned earlier I started a corporation and we do it all for multi million dollar clients www.monopolizesocialmedia.com come check us out also any questions?
GO TAKE A LOOK
https://fiverr.com/atlcomputerdude